Tuesday, November 12th, 2030
---
1:58 am
Wednesday, June 26th, 2013
---
8:38 pm
- [Karting] Weird Visual Glitch
So, this happened while I was creating my last track:

While in create mode my console froze while I was attempting to "undo/rewind" several times...
When I booted my game back up and went back into create mode, this is what I was greeted with:



(

+2Collapse

)






The road completely disappeared with only white "dot" markers instead, my objects were EVERYWHERE, broken and even in the background. O.o

At first I was going to attempt to salvage the level, but then I realized I would have to rebuild most of the trees and the little houses... However I ended up repaving the road and fences before getting to that conclusion. First I had to "remove" the entire road first (make it a "no spawn zone") then I repaved the road and that at least showed up properly..

Then I gave up. I thought I had lost several hours of work and I was about to rename it "Hours Wasted" and publish it as is. So after I left create mode (and saved the changes, why not?) I decided to give it one more play, and well everything seemed to have returned to their normal places.

I went back into create mode to discover that there were a few unsaved changes I'd made but not much was lost. So, I finished up what I had left (I was nearly done at that point) and published it.
There was no harm done in the end, and I got some interesting photos out of it, but man did it give me a "scare" (more like an annoyance).

Anyway I just thought I'd share.

Do any of you have any create mode horror stories?

current mood:
tired
5:55 pm
- Personal News: Sakura Hill - New Track on Karting
I finally managed to get around many of the bugs in Karting, and even though it crashed on me four times and massively glitched on me once, I managed to finish a track.




It's a simple track and I really enjoyed making it. Thanks for looking :)

current mood:
creative
5:40 pm
- Personal News: Doctor Who collides with Little Big Planet!
Since there isn't an official pack for LBP I decided to go out and make my own Doctor set. :) I've posted a few pictures already, but the other day I created a series of pictures that displays who is who.

Also posted here:
Official PS Little Big Planet EU Forum


And now for your viewing pleasure I present all (currently) 11 Doctors:
(Click the images to view their individual post on tumblr.)



Thanks for looking :)

current mood:
creative
Friday, June 21st, 2013
---
2:17 pm
- Personal Update: A Small Distraction From Ponies >.>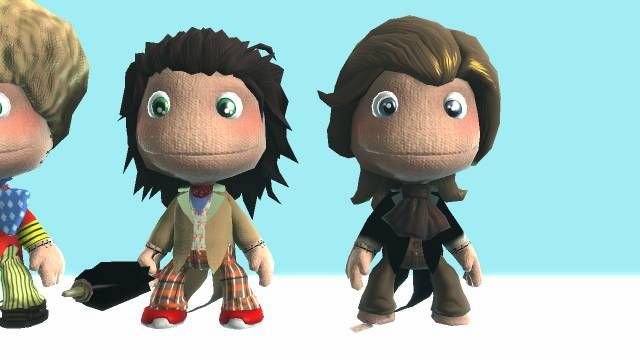 Only 3-4 more Doctors to go
current mood:
creative
Sunday, June 9th, 2013
---
10:41 am
- Photo Of The Sometimes: Girl
Wednesday, May 15th, 2013
---
10:06 pm
- Personal News: GRARGH!
I technically have two PlayStations so it's not like I won't be playing, but my old PS3 has died. Again. Unfortunately, this means a couple of things:

1. My LBPKarting disc is stuck in the drive. Yes, I've tried multiple things to eject the disc except for ripping it open or breaking the darn thing. It's the Fat/Launch model, so any of the tricks with the Slim model won't work. Karting is essentially broken for me anyway, but I was enjoying the thought of possibly recording some tracks.

2. And I won't be recording any levels any time soon. The old PS3 is the console that I was using to record, so I wouldn't have to cart the new one up and down stairs, and reset the settings every single time. Until I get a new PS3 to record from, I probably won't be recording any time soon.

There is the possibility I may attempt some recording from my Vita using a camera I own, but I doubt it.

Anyway, I will still be playing LBP2 every now and again, so if you catch me while I'm Diving-In then I'll be seeing you!


current mood:
annoyed
Wednesday, May 8th, 2013
---
10:58 pm
- Video: [LBPK] Intergalactic Planetary By JaddziaDax
Finally made a video for my level!
Intergalactic Planetary
I am looking to possibly make more videos, feel free to link me your Karting levels :)
current mood:
tired
10:01 am
- Video: LBPK Decorating Stuff!
Just playing around a bit while I was trying to find more information for
a bug I'm having
.
current mood:
annoyed
Tuesday, April 30th, 2013
---
1:29 pm
- Picture of the Sometimes: So.. I Made This Thing In My Pod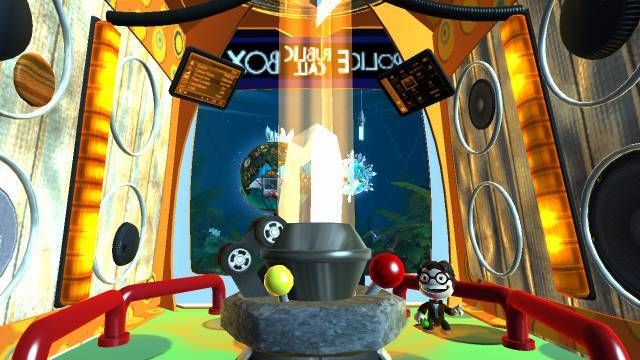 Just a little fun :)
current mood:
annoyed
Tuesday, April 16th, 2013
---
9:47 pm
- Personal News: Doctor Whooves has his TARDIS now :D


I've updated these two levels, the main six, Luna, Cheerielee and Apple Bloom all have slight adjustments (different eyes/new hair). A third level will soon be on the way.

So far for part three I've made:
1. Princess Cadance (bride)
2. Princess Cadance (casual)
3. Shining Armor
4. Daring Do
5. Photo Finish
6. Trixie Lulamoon
7. Queen Chrysalis

In Progress:
1. Discord (I may not be able to make a "No DLC version" sorry)

And I have several others still lined up to be made. Hopefully I can start work on the level portion soon. I don't know if I will be making any more Pony Costumes beyond this one, but I will definitely need a break after I'm done creating the level.

current mood:
artistic
Monday, April 15th, 2013
---
5:07 pm
- Personal News: Ramblings and PSN Mainentance
With the PSN down I suppose I could always work on Pony Costumes today. >.>
At the time of posting this it's got a good 4 hours before it comes back on. O:

Anyway I've been procrastinating a lot on working on costumes... I have been rather lazy about it haven't I? Lately, when I go on LBP I just want to play good platformers. However, I also have a super silly and super secret video project I'm working on! but I can't do it today because of the network.

Anyway, off to make more costumes! BBL!



I really should get to work and stop screwing around!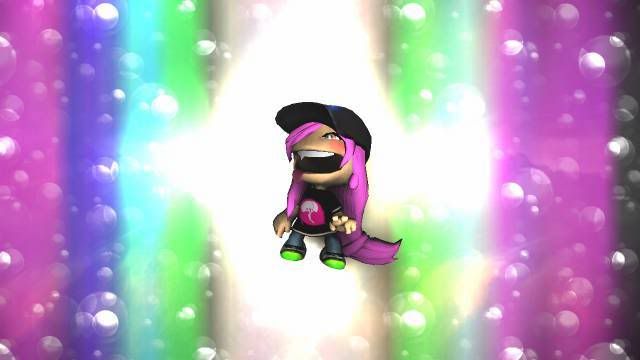 current mood:
rushed
Friday, April 12th, 2013
---
9:29 pm
- Video: Playing LBP With Sackinima
I decided to join in on Sackinima's live stream today, and it was fun!
The video above is from my perspective however if you would like to see the full stream then
click here
. I personally come in around
the 1h7m mark
where my gender makes a pretty big impression apparently! lol.
Thanks for playing :D
current mood:
amused
Saturday, March 16th, 2013
---
1:23 am
- I Really Need To Get To Playing LBP Again! O.o
So, where have I been?

Well, I've got a few excuses.

1. I was babysitting my 4 year old niece for a while... I may have to again. She's not as good with the controller as my other niece, though I may have to teach her a thing or two about LBP when she gets better. Right now she just wants to hold a controller so that she feels included.

2. I've been editing an AMV. This is one of my older hobbies (been editing since 2004) so I don't really want to give it up because I still enjoy it. However, it takes some time away from the console so I'm not playing LBP as often.

3. It's freaking cold downstairs! Haha! I live in the North West. It gets cold here. Essentially I've been hiding up stairs because heat rises and the upstairs keeps warmer than the down stairs. To save power/money we haven't been running the heater downstairs. This has had many side effects such as the liquid dish soap freezing and my aversion to going down to the living room where the PS3 is.

4. I've just been lazy.

5. I got sucked into GaiaOnline again because they have Madoka Magica items for your avatar, and darnit they are still too expensive. D:

6. I found Doctor Who. AND I LOVE IT. I ended up marathoning the entire show and wow, can't wait to own that soon!

I know excuses, excuses!

I will return to the game soon, maybe even have some more Dax's Picks eventually... In the meantime, I'm still browsing the forums and lurking.



Friends glowing and hanging out!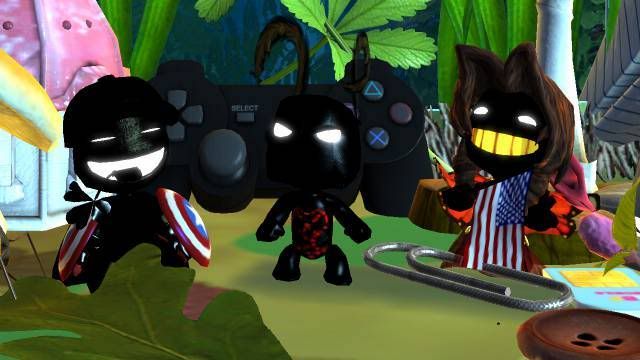 current mood:
awake
Tuesday, February 26th, 2013
---
10:21 am
- Personal News: More Ponies!
Another short preview to the updates to the Mane Six and Apple Bloom.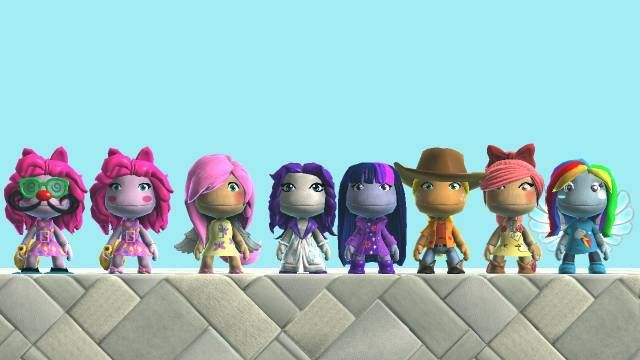 I managed to make Daring Do and Photofinish yesterday :) I may have photos of those later, or maybe after I complete a couple of the others.

current mood:
awake
Sunday, February 24th, 2013
---
2:47 am
- Personal News: I Couldn't Resist
Part of my Vita T-shirt project: My Little Fangirl <3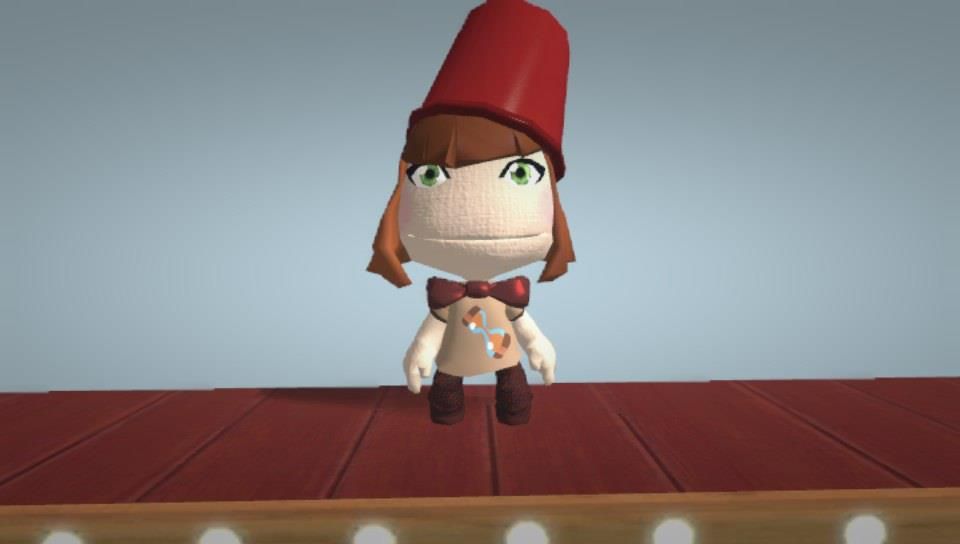 current mood:
excited
Friday, February 22nd, 2013
---
4:17 pm
- Personal News: Pony Costume Preview
I have a whole list on the way but these "four" are some of my more popular requests... I made two versions of Cadance because I wanted to do a wedding version and a more casual version.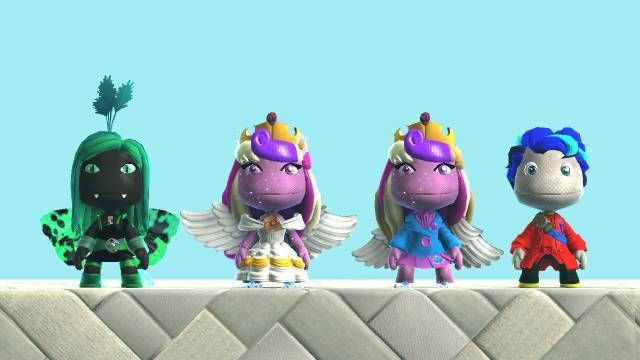 This is the list I'm working off of:


(

Under CutCollapse

)



I've also made updates to the Mane Six and Apple Bloom.

Mane Six updates will be released soon, but the Apple Bloom update is going to have to wait until LBP updates to release the Bioshock Minipack. I also have plans to update Cheerilee since the hair isn't available anymore.

Thanks for reading and thanks for your patience :)

current mood:
creative
Thursday, February 21st, 2013
---
2:45 pm
- Personal News: Don't Blink
Recently I got Netflix. To the dismay of many of my LBP friends, I've been sucked into it. I haven't had any kind of cable or TV since maybe 2002-03 so I guess I have "a lot of catching up to do". Most of what I've been watching before has been either on the computer, or it was bought on DVD.

The first show I decided to watch is the new version of Doctor Who. I had many friends recommend it to me. Since it's Sci-Fi I had a definite interest in it. I recently finished the 9th-11th Doctor's seasons (with a few eps missing here and there because not all of it is on Netflix) and well, I love it.




While the Daleks are probably my favorite Who alien, they aren't exactly the easiest to make a costume for, though I may end up trying in the future. However, the first creature I decided to take a crack at is actually the Weeping Angel.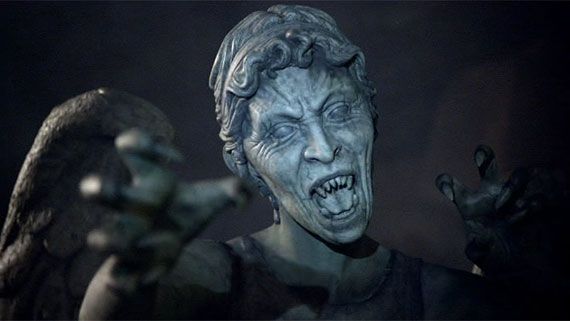 Unfortunately, there are no super-accurate costume pieces to create this creature, but I've managed to create my own version of it, and I've set off to terrorizing Craftworld with this costume.



LBP2: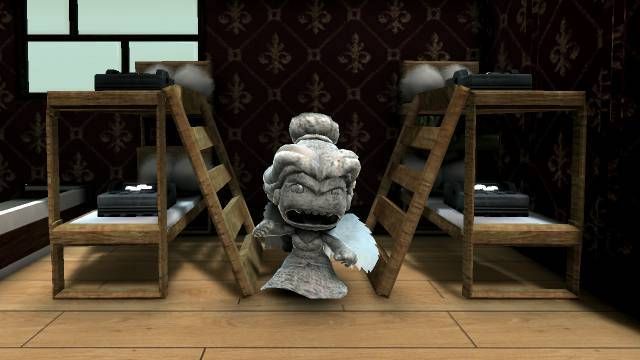 Vita: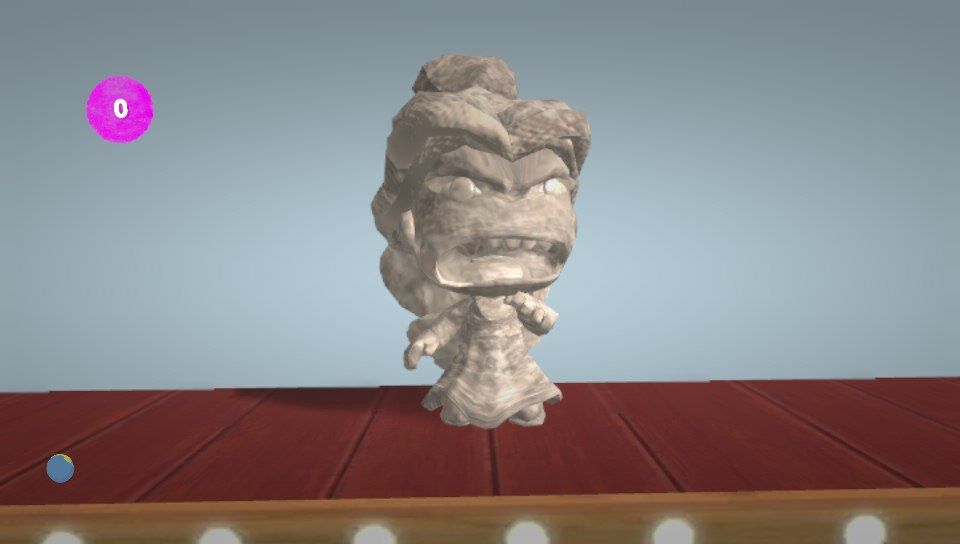 Anyway If you would like to see some of my favorite pictures taken in the Imagisphere with this costume look here:



As for projects I'm working on... I know I still have Pony costumes to work on too @_@
On Vita, however, I'm making themed T-shirts. When I put them in the give away they will only use the World Peace Day shirt but here is an example of one of them: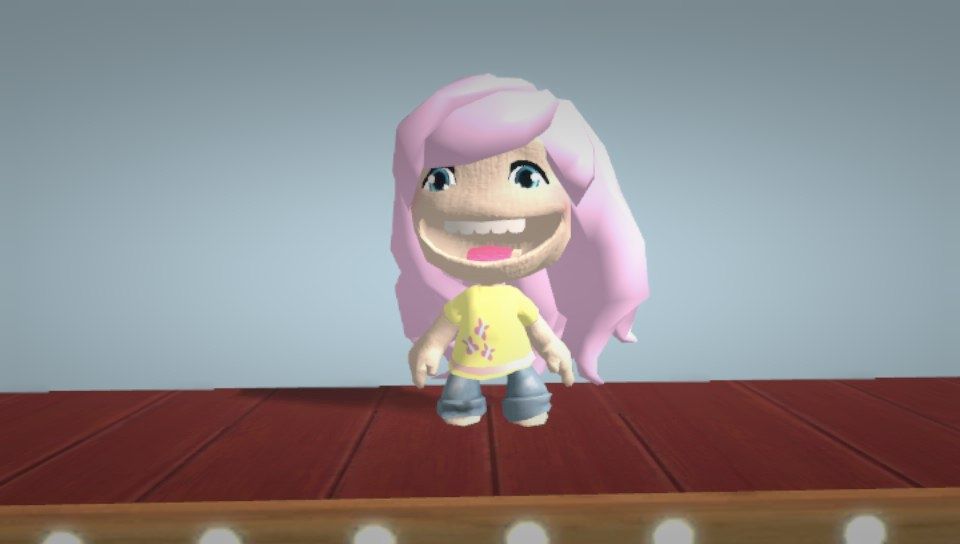 Here's hoping I can get some work on costumes soon so I have something to publish! XD

Thanks for taking the time to read :3

current mood:
amused
Sunday, January 27th, 2013
---
1:08 pm
- Personal News: Finally Published A Vita Level!


Last night I finally published my first Vita level. Essentially it is both a photo gallery and a platformer. I ran out of temperature so it ended up a little short, but I hope you enjoy!

And now a mini-screencap gallery of the level:



I'm hoping to finish up the t-shirt give-away next.

current mood:
awake
Thursday, January 24th, 2013
---
12:38 pm
- Picture Of The Sometimes: And Personal Ramblings
I've made something that at least looks similar to my default character in Vita. I don't have the Tifa hair because it was purchased on my husband's account, but I have managed to put together this cute axproximate sackgirl. :)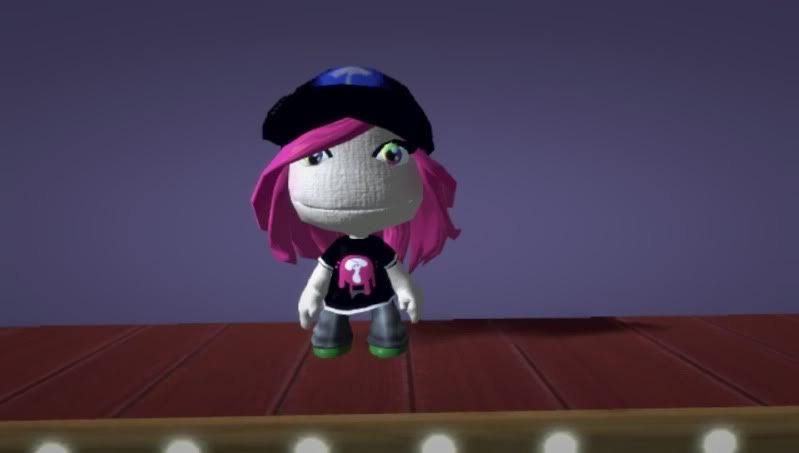 Also in my lack of sleep last night I made "Tree T-Shirts" in other colors of the rainbow. I may end up giving them away in a level soon. The only thing that will be required is the free World Peace Day Costume Pack. Now I just have to get on the ball and create the level. :)

I have ideas for a couple other T-Shirts, so I may just make an entire "T-Shirt Give Away" level.

current mood:
hungry